MT ZOOM BRAZE ON CHAIN GUIDE 26g
BRAZE ON SINGLE RING CHAIN GUIDE - only 25g
Lightweight, simple, effective, adjustable, durable & great value.
Simple to install unbranded chain guide made specifically for bikes with braze-on mounts. Adjust with an allen key, laterally (10mm) & vertically (35mm). The guide head can also be adjusted/swivelled up & out of the way for easy access to your chain ring (to remove/clean etc.). Comes with braze adaptor & fixing bolt.
Even the new thick thin chain rings have been known to bounce off a chain. For security use a chain guide.
Highly adjustable, no lower bar so fits a broad range of chain ring sizes and oval chain rings, e.g 34t - 50t (note, your braze can limit size)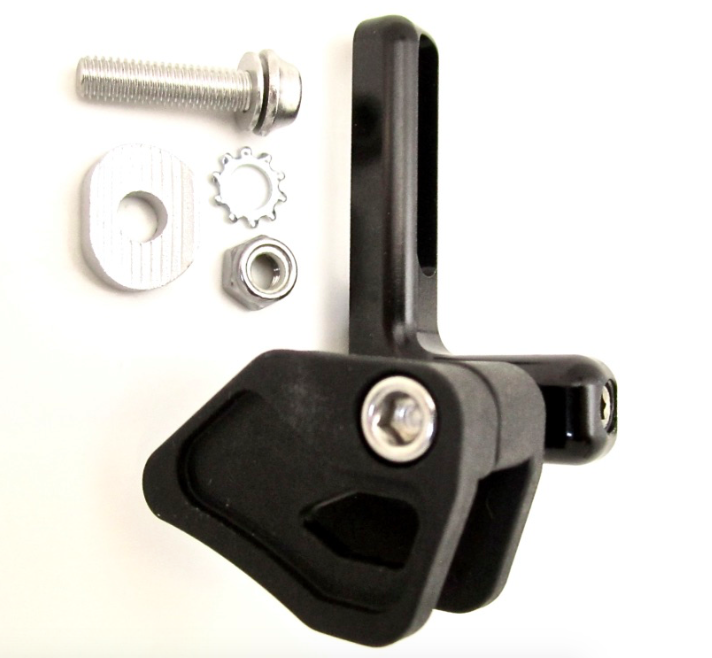 !!! Note we have a broad selection of chain guides, see other listings !!!
Suitable for 1 x 9, 1 x 10, 1 x 11, 1 x 12 etc. systems
Material: aluminium alloy with a composite reinforced guide
Weight: Ultralight, 25 grams!
You could pay over much more for the price for a branded one of these. We get these straight from the original manufacturer so can offer a great price. This is a unbranded chain guide, designed for single ring set-ups to keep your chain in place and avoid it dropping off.